Binance has announced its expansion into Francophone Africa to help drive blockchain and crypto adoption in Africa.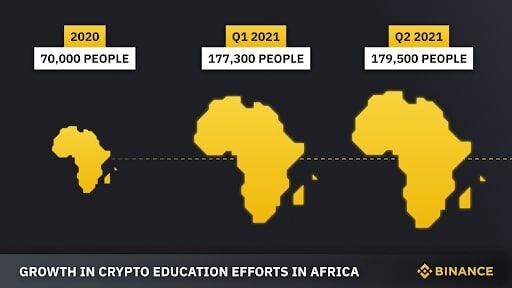 The news comes at a time when Binance has been able to successfully educate more than 400,000 Africans on cryptocurrencies via its free crypto courses dubbed Binance Masterclasses.
The cryptocurrency exchange launched its courses in January 2020 and had educated over 70,000 Africans one year after the launch of the Masterclass. Since then, Binance has so far been able to educate more than 177,000 Africans in the first quarter of 2021 and over 179,500 in the second quarter of 2021 in a bid to create the education infrastructure needed by Africans to be financially informed and free.
Binance held the first masterclass dedicated to French-speaking Africans in July 2021 and got participation from 3,900 crypto beginners. This would later be followed by a trading boot camp for crypto enthusiasts in September 2021 and received participation from over 17,400 people. To date, more than 25,000 people in Francophone Africa have benefitted from the Binance Masterclass.
Speaking about the expansion into Francophone Africa, Carine Dikambi, Binance's Francophone Africa Lead, said, "The African continent holds some unique opportunities for cryptocurrency adoption and development. As such, we see blockchain education as vital in actualising these opportunities. It is also clear that the potential of Francophone Africa to be a core part of this development is endless and we are committed to ensuring that more people have access to the right information."
Binance is expected to hold its first offline event for crypto enthusiasts on December 4, and December 11, 2021, in Yaounde and Douala in Cameroon. Both events will help educate attendees on the fundamentals of blockchain, the Binance ecosystem, how to set up a Binance account, trading fundamentals, and much more.