Meta Platforms' Instagram is making changes so that the platform will look and feel more like its Chinese competitor, Tiktok, but some top Instagrammers are not happy about the move. 
Over the past couple of months, Meta has made drastic changes to help Facebook and Instagram keep up with TikTok. This is because, in 2021, TikTok saw 20% more growth than Instagram and Facebook, and teenagers are on TikTok than Facebook or Instagram.
TikTok also has 1.6 billion monthly active users, and that's already more than Instagram's 1 billion users, and it's slowly creeping up on Facebook's 2.9 billion users, especially as TikTok gained 45% of its users within the past year.
To keep up, Instagram has launched a number of new features like Reels, and more recently, it's testing a new full-screen mode modelled to look more like TikTok's FYP (For You page) or even the Reels feed. All this spells more videos for Instagram, and if you've been on the app lately, you'll notice the changes.
But quite a number of top Instagram users, like the Kardarshians, don't like the changes and there's even a petition with over 150,000 signatures to stop Instagram from transitioning into a TikTok-wannabe.
People want to see photos of their friends and people they actually follow, not random dancing videos and challenges like Tiktok does.
On Monday, the second-most followed Instragrammer, Kylie Jenner, and her sister Kim Kardashian, reshared a post urging the social media platform to pause on its most recent changes.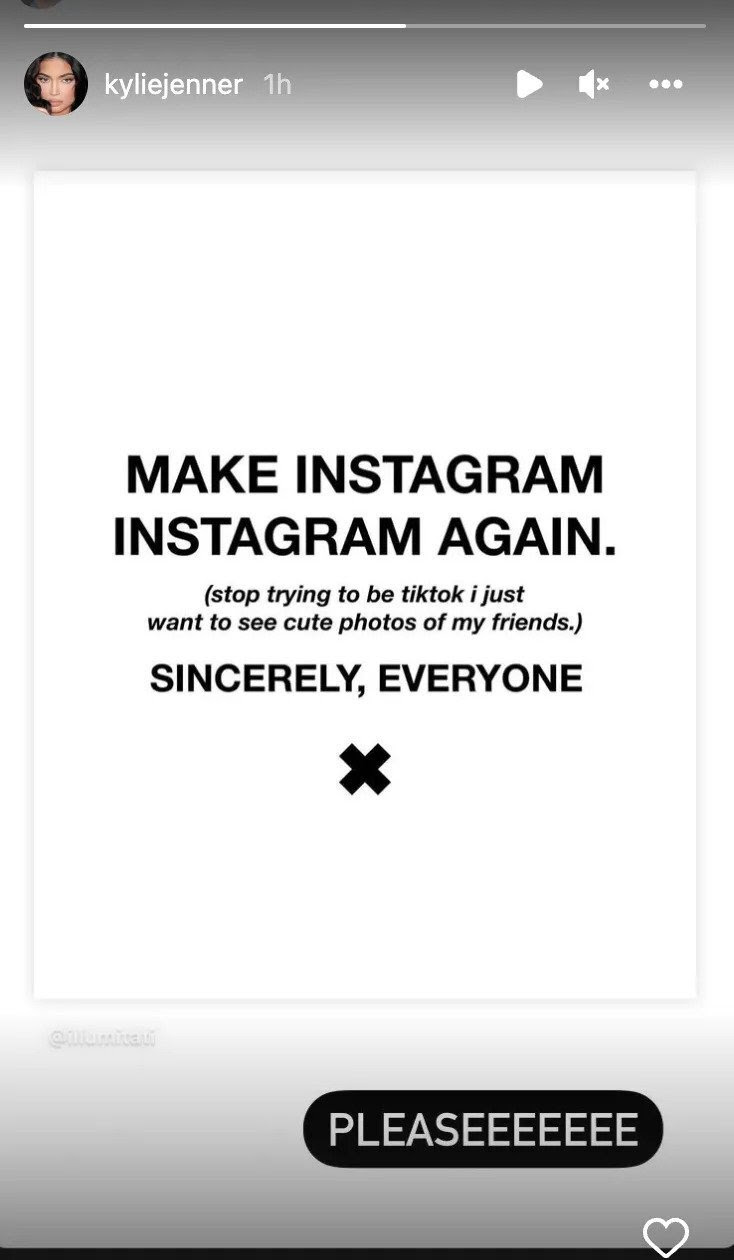 Instagram responds
Instagram heard about the petition, read the post and the Head of the platform, Adam Mosseri responded and said that the data says different.
In a video shared on Twitter a day after the Kardashians' post, Mosseri stated that Instagram will continue to lean towards videos because user behaviour says that people like more videos.
"Instagram will continue to support photos, as Mosseri states, but if it wants to keep its $20 billion ad revenue, it's going to have to do what brings the most users. And, for now, that means more cat videos, and less family photos," he said in the video.