MTN Ghana says it is reviewing its call and data tariffs upwards beginning Saturday, May 1, 2021 to reflect the 1% increase in the National Health Insurance Levy .
This is contained in circular sent to clients dated April 30, 2021.
Government introduced the 1% levy as part of measures to plough back revenue losses as a result of  COVID-19 reliefs.
TechGh24 learnt that government has actually asked all telcos and industry players to adjust their tariffs upwards to reflect the new levy.
The MTN circular, signed by Senior Manager, Customer Relations and Credit Management, Salihu M. Abu read that "Scancom PLC (MTN Ghana) wishes to inform you that following the introduction of the COVID-19 Health Recovery Levy, which has resulted in a 1% increase in the National Health Insurance Levy, talk time and data charges have been adjusted to reflect the tax change.
"This takes effect from 1st May 2021," it added.
Find a copy if the circular below: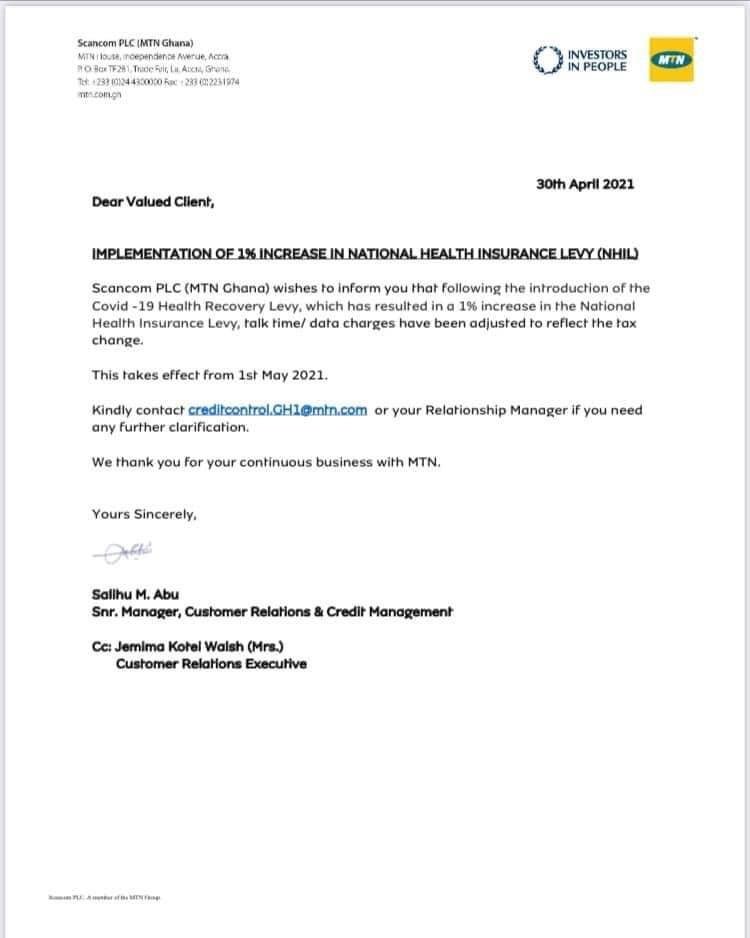 It is not yet clear if all the other telcos have also increased their tariffs from today.
TechGh24 learnt that the management of Glo has not yet said anything about government's directive, but it is likely they will absorb it on behalf of customers.